IL Latino News covers the social determinants of health and democracy. Collaborations like the partnership with is integral to the health of news and the health of democracy. 
Economic stability means that people have the resources essential to a healthy life. Factors affecting economic stability include affordable housing; employment that provides a living wage; things that support employment, like worker protections, paid sick leave, and child care; and access to reliable transportation.
---
For husband and wife Angelo Villagomez and Edith Galvan, opening up La Michoacana Plus in Little Village brings them a sense of joy because it became a place where youth can laugh with friends, do homework or enjoy some ice cream.
"Some kids come in here for half an hour, eat one thing and then just hang out…It's turned into a way of giving back to the community," Villagomez said.
La Michoacana Plus franchise opened this month and offers a variety of treats such as paletas (ice cream bars), michelaguas (fruit flavored drinks), esquites (a corn dish), and more.
The history of the franchise stems from California and is separate from other La Michoacana ice cream shops across Chicago, Villagomez said.
For customer Jose Antonio Reynaga, he said visiting La Michoacana Plus with his family is a tradition and a way to reconnect with his cultural roots.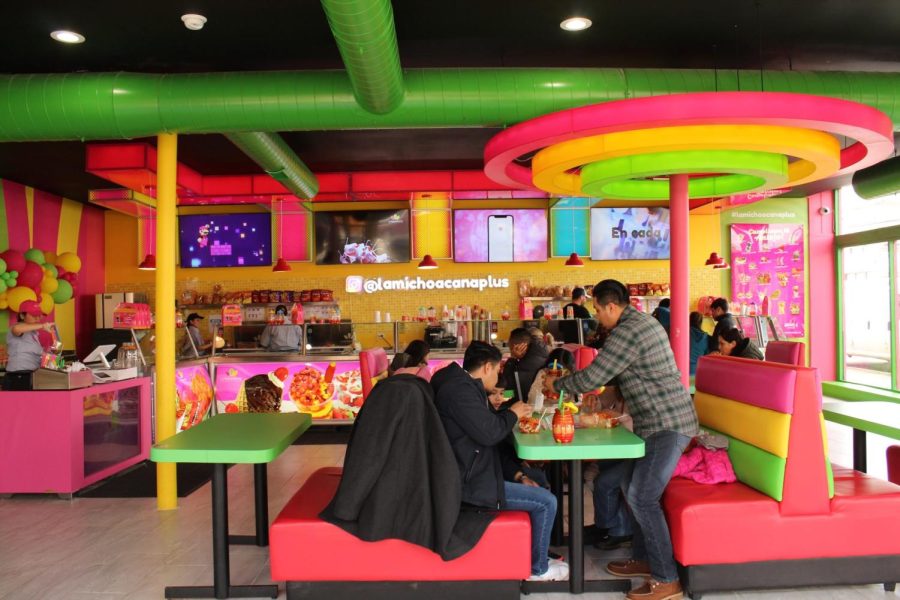 "It's a way to return to Mexico," Reynaga said.
Little Village residents are 81% Latino and 75% Mexican and Mexican American according to Enlace Chicago and around 18% of businesses are restaurants according to a 2012 market analysis done by the Little Village Special Service Area.
As the first Michoacana Plus on 26th street, Villagomez said he wanted to create a restaurant that is different from the rest of businesses in Little Village by giving it a "twist" with its bright colors, food and vivid ambiance.
"It's important because most of us like to try new things, having something that's out of the ordinary is definitely something that is really good for us," said Liz Gonzalez, La Michoacana Plus employee.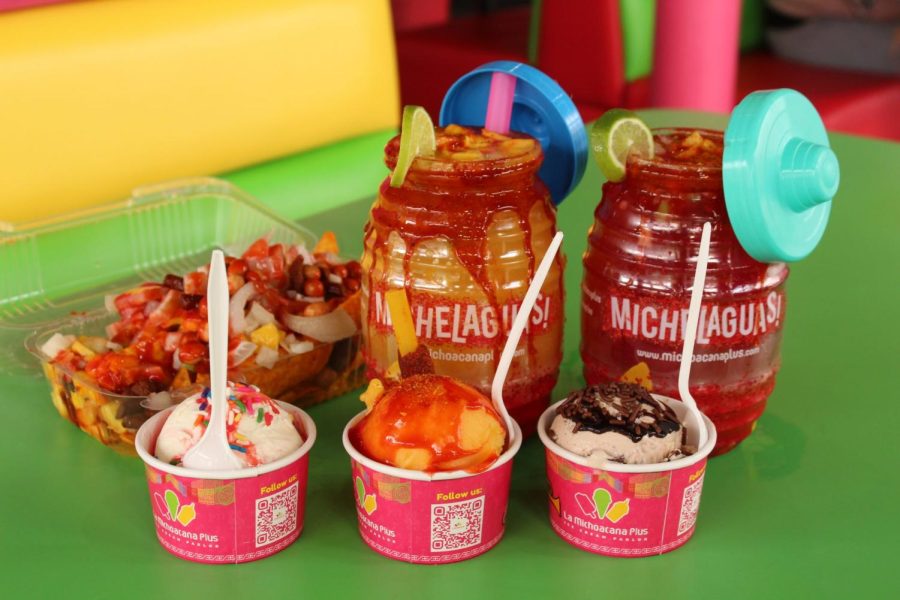 With a mix of younger and older employees, Gonzales said she enjoys the environment and the people she works with.
"Most of us are pretty young and we get along pretty well," Gonzalez said. "The elder people treat us like their own kids."
The Little Village Academy, a local elementary school on 26th street, brings to the restaurant people from all ages, from students showing them their report cards to 30-year-old parents who want to get something to drink, Villagomez said.
Villagomez and his wife started planning their grand opening around two years ago, though it hasn't been easy.
Villagomez said he balances general contracting, construction, the franchise and being a father to his 18 month old daughter.
Since opening up the franchise, Villagomez said younger clientele have asked him for business advice through social media.
He said he is always happy to help because growing up, he didn't have anyone to guide him on how to run a business and believes it's easier said than done.
"I wish I had someone when I was younger," he said.
Hispanic-owned businesses grew about 8.2%, from 346,836 in 2019 to 375,256 in 202, and made up about 6.5% of all businesses, according to 2020 U.S. Census data.
"Don't be afraid to ask questions and show up…put yourself out there," Villagomez said to advise young Latino entrepreneurs.
Beyond a business opportunity Villagomez gets excited and finds joy in seeing kids come into the restaurant.
"My heart was like damn this makes me happy," Villagomez said.
The couple plans to open up three more locations in the Chicago area in the future.
---
Cover Photo: La Michoacana employee Liz Gonzalez enjoys the unique atmosphere that the store provides for the community. The store is something out of the ordinary for Gonzalez. (Una Cleary)
Jacqueline is the editor-in-chief of La DePaulia, DePaul University's Spanish language newspaper. She is a multimedia journalist and the event coordinator for the university's National Association of Hispanic Journalists (NAHJ) student chapter. Jacqueline is a first-generation Mexican-American who aspires to diversify the broadcast news industry.
She is an Hortencia Zavala Foundation (HZF) fellow in the 2022 class, Journalism Camp: covering race, ethnicity, and culture.
Una Cleary is the Focus Editor for The DePaulia, DePaul University's newspaper. She is a multimedia journalist majoring in Political Science who is passionate about local and national politics.
Twitter:@unacleary_
---
Publisher's Notes: Illinois Latino News (ILLN) and La DePaulia are partners in best serving the Hispanic-Latino community.
You can read the Spanish language version of Sweet Connections: La Michoacana Plus offers Little Village A Community Commonground by clicking on La Michoacana Plus ofrece dulces conexiones en La Villita: 'Es una manera de regresar a México'.